In the frenetic, crackling static of our modern culture, surrounded by pixilated images, bombarding noise and concrete, we have become dulled to the expanse of beauty just outside those confines.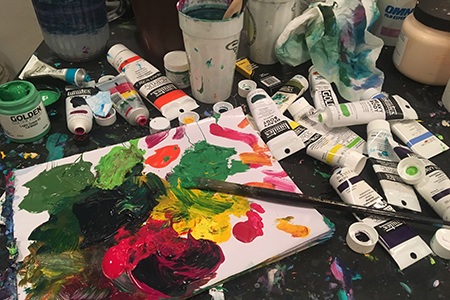 I paint what I live, sifted through my experience. Every morning I wake up to the joy and beauty of God's creation. To me, the landscapes of nature pulse with the vibrancy of life and color. Forests, meadows, mountains and rivers; rocks and streams, sunsets and moonlight, my palette and brush celebrate their riot of hue. The expected myriad of verdant greens in the lushness of our mountain forests, to its unexpected cool, shadowy depths of dioxazine purple, magenta and pthalo blue; to light filtering through the density of foliage to sparkle in glints of yellow on new spring growth, color and motion abound in my paintings.
I choose to focus on the positive, on the joy in life, and as an artist to portray its beauty. I am a happy person, a well balanced optimist. God has given me chances to see His magnificent glory; to see the refulgent light and hope in life instead of oppressive darkness. I have had difficult times, fears and insecurities that are requisite in the human condition; they are part of my story, the fabric of who I am. I find peace by escaping the shadows and abandoning myself to God's light and love. A proclamation of the verve and beauty of life; this is the spirit of my paintings.